From "Dreadnaught". It looks like she's got one of those angle measurers that my dad always carries under his truck.
From "Waking Moments". B'Elanna looks like she's avoiding Tom doesn't she?

sorry 'bout the bad quality. Normally I would delete an image of this quality, but for some odd reason I took on a fondness for it, and found myself unable to press the delete button. (Blame the coffee)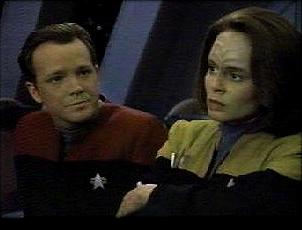 *
From S&M. What's that old child's rhyme about kissing? Or, not kissing in a field or something? I can't remember the words... someone help me out here! But it applies here doesn't it? *wink*

(and everyone is thinking, "WHAT?!")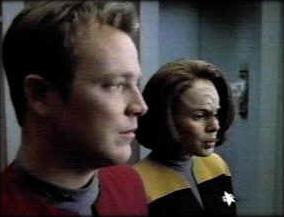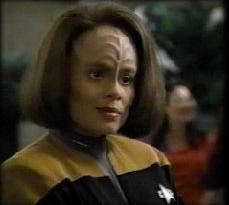 *
Here's one from "Random Thoughts".

"Telepaths..."

"Hold very still, there's something in your teeth..."

Just kidding... he's actually saying, "I don't know what I ever saw in you." But don't worry, all of you who haven't seen Vis a Vis. It's not Tom, it's Steth!
Though, B'Elanna couldn't tell the difference either. *rolls eyes*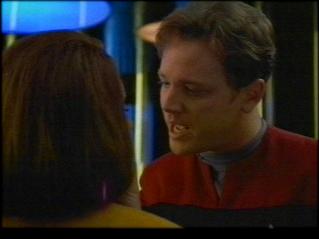 *

Ooooo, sexy.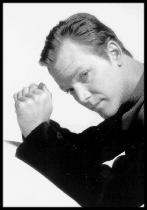 Click on the image to get the BIG version

Oh yeah, sure...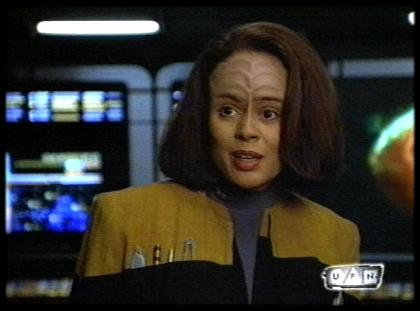 From "Message in a Bottle"

| | |
| --- | --- |
| | Roxann at a convention! Get a bigger version of this pic by clicking on it. |
| Sign, Robbie, sign! Believe me, those lines are long! | |

She really looks like she's just about to sneeze don't she?

(From "Caretaker")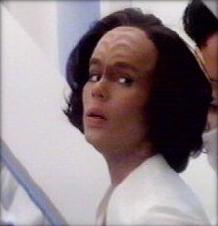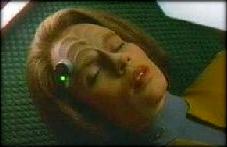 Hey, I want one of those! If I had one of those, I could stay asleep when my little sister jumps on me! *ouch!*

From "Caretaker". Another obnoxious example of why one shouldn't look at the boom mike! *shakes head*
  ;-D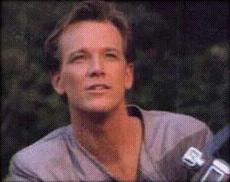 Prime example of a FAMOUS picture! From "Day of Honor". Though I don't recall B'Elanna looking quite so torn-up over the loss of her warp core. She looks like she's about to burst into tears!

"Nooooo!! Not Warpie!"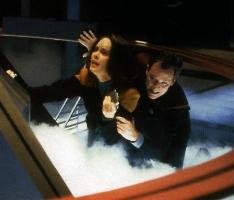 Click on the picture to get the BIG version

Anyone can use any of these. As long as you put a link to www.startrek.com on all the pictures with Paramount on them. And none of these pictures are mine in that sense. Unless I say so. All of them come from various sites of which the names are too many to count. So just look around. Besides, no one can have all the credit for any one picture. At least six sites each have copies of a picture. Just find any site, and you'll find a credit for one of these pictures.
Broken images? Nasty weird stuff? Just plain bored? Email us!