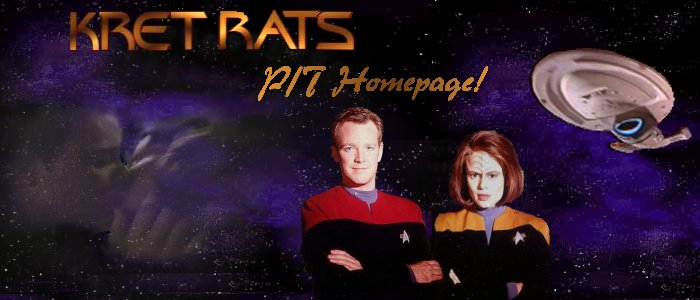 Last updated: MARCH 28th
PLEASE check the "What's New" page after each update. I ALWAYS update that page along with my usual updates. If it says it was updated recently, then you can be sure I've written in the What's New Page. Thanks.
New announcement!: I have a partner site, an absolutely spectacular media gallery! Everyone feel free to check her site out as well! Her last update was mid-March!


Lil' tracker thingy, everyone should have one of these. By golly they're fun!


Also, a brand new counter. You are the visitor.


<! -- Image map created by MapMaker32 -->
Welcome to the KRET RATS Home Page. Like the new look?

This page is written and run by the KRET RATS: a group of girls, the senior staff consists of Heather, Amber, Lauren and Carolyn. Amber and Heather do all of the updates and ideas and stories are given by both Lauren and Carolyn. Heather narrates most pages though.


The name KRET RATS is taken off an annoying nickname Carolyn got as a star-trek-watching child. For the few that didn't get it, KRET RATS is supposed to be STAR TREK spelled backwards, but she was called KRET RATS and not KERT RATS. We would really like it if any regular visitors would like to become part of our circle, the KRET RATS. If you would like to join us with your stories, poems, news, etc... just E-Mail us. But, before you can enter, you must answer a few skill-testing questions to prove you really are a Star Trek fan. Don't worry though, it's all fun and games. We'll always except you, unless you answer the question, "When did B'Elanna first say 'I love you' to Tom" or "What is the name of the Enterprise's first officer?" wrong. Considering those are pretty "duh" questions, the real ones will be E-Mailed to you in response to your request.
The happy birthday this month goes out to...


I'll update this ASAP, with only two days to go in the month it's kind of pointless!




<! -- Image map created by MapMaker32 -->


All the pictures areas are incredibly large and the P/T pictures page has been split over a dozen times. Be sure to check out all the pages for new pictures often, seeing we update at least twice a month.
The trivia below is an easier variety, though it is not particularly easy. For those of you who think you are master trekkies, we suggest you check out the harder trivia area, which is inside the normal trivia area.


This is professer Melvin Moriarty, modeled after our infamous dog in a bubble, (long story, don't ask.) In case you're wondering what he's chasing, he lost his shadow!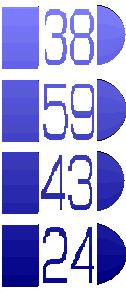 Please vote for me in the AWARDS!!!

<! -- Image map created by MapMaker32 -->

If you want to link to my site, please use one of these two banners I made

(a href="http://members.tripod.com/~Maihe/") (img src="http://members.tripod.com/~Maihe/ptbanner.jpg") (/a)

(PS. For some reason the "M" HAS to be a capital. Make sure of that.) (and, of course, replace the brackets with < and > )